About Us: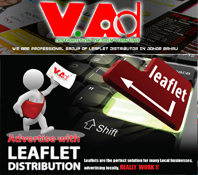 Firstly, let us introduce ourselves, V.Ad to your good
company. V.Ad has been established since 1998, by
providing all types of paper products in related to all
sorts of printing technologies, as well as one of the
Main Dealer in distribution of all kinds of leaflet
related in Southern Region.
Our Working Hours :
For Offices:

9.00am - 6.00pm (Monday - Friday)
9.00am - 1.00pm (Saturday)

For Dispatch Department:
9.00am - 6.00pm (Monday - Saturday)

For Folding Department:
2.00pm - 11.00pm (Monday - Saturday)

Market Leading Expertise
Understanding Your Market
We pride ourselves on being one of the Leaflet Distribution Companies in Johor Bahru,We work for the benefit of our clients and are always on hand to offer concept ideas.For full credentials please contact us, however to whet your appetite, The Leaflet Company is responsible for distributing over 50% of all targeted Door Drop advertiser literature in the JB and as much as 80% in some vertical markets.
Door Drop, Inserts, Face to Face, Print
Direct Marketing Advertising
The Leaflet Company distribution specialist in the JB and forms part of a wider group of companies. Collectively, we work with many advertisers and advertising agencies to plan and execute cost effective Direct Marketing campaigns all year round.
Leaflet distribution or the door to door distribution of leaflets under a supervised and controlled manner using full-time teams will ensure your leaflet or flier reaches the right letterbox
Targeting
Planning and Evaluative Expertise
We hold an extensive amount of data insights, designed to help advertisers understand their customer. Combine this with well honed implementation and execution skills and you have the perfect ingredients to ensure the best return on your investment.
Targeted leaflet distribution campaigns into areas that match your required Geographic or demographic audience is guaranteed to save you money plus reduce costs.
Home | About Us | Services | Area | Client | Contact
&nbsp Copyright &copy 2009 - 2022Johor Bahru Leaflet Distribution. All Rights Reserved | Best View With 1024x768 Screen Resolution | Johor Bahru Web Design by Akyweb.com